SRINAGAR (KIMS) — Charar Premier League 2023 was organised under the sponsorship of Rashtriya Rifle Battalian to encourage the sports talent and constructively engage the local youth in Charar-e-Sharief & Chadoora Tehsil of Budgam district.
The tournament started on 20 September 2023 and 32 teams participated.
A total of 31 matches were played to lift the championship title of Charar Premier League 2023. All matches of the league were played at Charar-e-Sharif stadium. During the tournament, more then 450 local youth participated from 32 teams.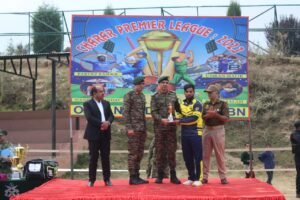 MCC Nagam team emerged as the champions after beating Royal Spartans Batpora in a tough contested match. Both teams were equally talented with a marginal difference. Junaid Aslam of MCC Nagam was declared man of the match for outstanding performance.
At the end Commander 5 Sector given well deserved prizes to the winning and runner up teams.
The event has sent a positive message in the young aspiring youth of Budgam district for a promising career in sports. — (KIMS)