SRINAGAR — After conducting successful meeting in North Kashmir, the Congress party on Sunday conducted another preparatory meeting at Malpora village in Kulgam district of South Kashmir.
The meeting was chaired by Manpreet Singh Mani, All India Youth Congress Joint Secretary, District Youth Congress President Pulwama, Shoaib Magray was also present in the meeting.
The meeting was attended by local residents and other members of the party.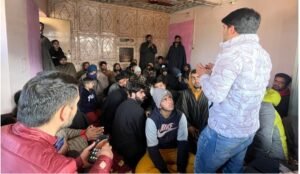 Singh stressed upon the preparations for Bharat Jodo Yatra which is going to enter the valley later this month. He said more and more people should come forward and walk on the path of unity with the Congress party.
Our unity is our strength, we should collectively come forward in support of Bhatat Jodo Yatra led by Rahul Gandhi Ji to protect our rights, he said.
Bharat Jodo Yatra is a vision to bring different diversities under one roop and its only possible if more people come forward and support the yatra.
The Bharat Jodo Yatra, led by Rahul Gandhi commenced in September last year, and will conclude in Srinagar later this month. — (KIMS)