JAMMU (KIMS) — The Special Investigation Unit (SIU) of Kishtwar Police on Wednesday carried out raids at multiple locations in Kishtwar district in a militancy related case.
The raids were carried out in the residential houses of militants who are operating from Pakistan Administered Kashmir (PAK).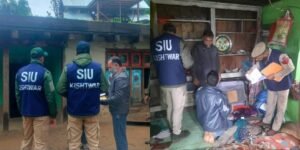 Senior Superintendent of Police (SSP), Kishtwar Sh. Khalil Poswal – JKPS in a statement said, "CIO Kishtwar DYSP Vishal sharma after obtaining house search warrants from NIA Court Jammu in case FIR No 272/2022 registered under UAPA Act at Police Station Kishtwar against militants namely Azad Hussain S/o Ab Majid R/o Affani Padder, Gazi-Ud-Din S/o Mohd Ayoub R/o Jugna Keshwan, Bashir Ahmed Mughal S/o Gh Qadir R/o Jugna Keshwan, Sattar Din @ Rajab S/o Mehar Din R/o Jugna Keshwan who are presently operating from POK/PAK, searched their respective houses/residential premises."
"During the course of searches, the evidences collected shall be investigated so as to subject the accused persons to judicial determination for their involvement in anti-national activities and perpetuation of militancy," the statement said.
The statement further said, "All those supporter/associates of militants whose involvement surfaces during investigations shall also be prosecuted."
"The searches are aimed at eliminating the militant ecosystem in the district by identifying various over-ground workers and supporters of militancy," the statement said. — (KIMS)